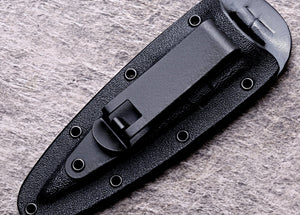 Shipping time for this product is 2 weeks
Shipping for sales may take up to 12 weeks

Need to replace your HeadHunter sheath or just want an extra...
We will ship it for FREE!!! 
Sheaths are custom Kydex with a proprietary clip designed by HeadHunter Blades and fit both the Live Blade and the Training Blade.  Simply take the live blade from your sheath, place it in a safe location, put the trainer in the sheath, and you are ready to train!  When you are done, reverse the process.
HeadHunter Blades uses small rivets to ensure a small and lightweight sheath, spring clips with a garment hook to ensure a positive lock onto garments, and expertly molded Kydex.